Summer is around the corner and when is the best time to start your ultimate weight loss journey if not NOW!
But not only because of the beach season around the corner, at B-active Fitness we know there might be many various goals and deadlines you want to shape up for. Hence we decided to launch an on-going whole-year-around weight loss clinic – b-fit Clinic.
FREE TO ALL MEMBERS
The b-fit Clinic will be held every 2 weeks in B-active Fitness Club with our weight loss and motivation expert – Nathan Cox.
All dates will be confirmed 1 month in advance. First 2 sessions will be held on the 12th April and 26th April (time to be confirmed).
What will I get from joining b-fit Clinic?  
Nutrition Advice

lectures and advice for each member with as much individual approach as possible

Workout Plans

 receive full workout plan each 2 weeks tailored to your fitness level and your goals designed to help you burn fat effectively and as fast as your body is capable of

Motivation

DO IT BECAUSE YOU LOVE YOURSELF, NOT BECAUSE YOU HATE YOUR BODY!  – goal setting, measurements and progress monitoring, motivational advice and support in group and 1-to-1 as required

Fitness Test 

everyone who joins the b-fit Clinic will go through a fitness test, but don't panic. This is simply for the instructor to know what is your level where you are starting in order for us to design your workouts suited best for you
Kick off your journey to healthier you and we'll guide you through the beginning until you are confident to maintain your fitness and progress further towards your goal.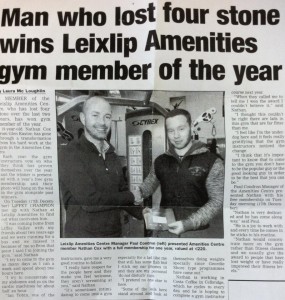 About Nathan:
Nathan is fully qualified Fitness Instructor who has been with B-active Fitness Club since June 2015. His passion for fitness is contagious and his motivational skills and fitness expertise helped already many of our members reach their goals. He has lead the winning group of the Biggest Loser Challenge 2016 in B-active Fitness Club.
Beside the experience and qualification, not many know that Nathan has gone through his own weight loss journey. He knows very well what it is to struggle with extra weight and how tough it can get when you are trying to change your life style, but also can tell you how rewarding it is when you reach your dream and how life gets better when you are fit and healthy.
How can I join? 
b-fit Clinic is not designed for set number of weeks. You can join at any time and you finish whenever you feel you are comfortable to continue to maintain your fitness level or continue your journey by yourself. No strings attached! Having said that, we will need you to let us know if you are joining by registering your name at the reception.
You can contact us at 01-9020870 or via email reception@b-active.ie
We are here to help you to kick off the change and guide you as long as you want us to. But REMEMBER! No one put on weight overnight, so DON'T expect to lose it all overnight. It is a process and sometimes fast does not mean that it will last. Too fast weight loss can be dangerous and not healthy at all. It can put your body in shock shedding pounds without letting your body recover. Sometimes it's just right to take your time. Remember also that b-fit Clinic is not a weight loss competition. Members will not be time restricted in any way, nor competing against each other. We will teach you to listen to your body and put your focus on becoming fit for lifetime without a yoyo effect. We recommend you to attend the clinic without skipping meetings for at least 3 months initially to get the lasting results. But you will see for yourself how fast your body can and will change.
DO IT BECAUSE YOU LOVE YOURSELF,
NOT BECAUSE YOU HATE YOUR BODY!