FITNESS FACILITIES – OVERVIEW
8000 square foot dry site fitness club – You have to see it to believe it!
Extensive class timetable including Spin, circuits, yoga and Pilates (class timetable available here)
Two studios, including a fully-equipped spinning studio and an aerobics studio.
Our qualified instructors are on hand all the time if you have any questions, and are available for booking if you want a personal fitness plan to be created for you.
Large Cardiovascular Zone including state of the art treadmills, bikes, cross-trainers and more
Many separate functional training areas

strength & conditioning area,
free weights area,
training rig,
kettle bells etc.

Large free weights area
Resistance area
Hammer strength machines
Plate loaded equipment
A personal trainer is also available to work with you on a one-to-one basis* (*additional charges apply).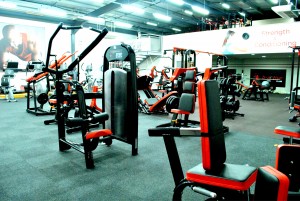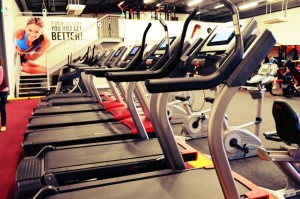 WEIGHT TRAINING
Looking to build muscle? Our top quality equipment and plate loaded machines will be sure to get your body in shape. Our fully equipped free standing weights area includes resistance machines, squat rack, smith machine, ample benches and much more will more than satisfy your daily workout needs. Much of our equipment is unique to Ireland.
Not sure what hammer strength is? Perhaps you are not a weight lifter – not a problem! With guidance from our fully qualified team of instructors or personal trainer you can achieve your goals. We know that all pros were amateurs once. All you have to do is believe in your dream and we will help you get there.
What can you find in the free weights area:
dumbbells for up to 45kg
incline benches, preachers bench, olympic bench, chest press
smith machine
squat rack
various cable machines, multi cable station
plate loaded machines (hammer strength) – shoulder press, leg press, lat pull down, chest press and many more
lifting belts available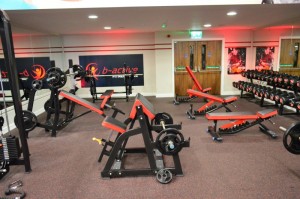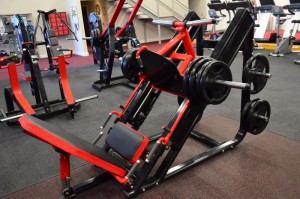 STRENGTH & CONDITIONING
Strength and conditioning exercises are key to ensuring you gain the maximum benefits from your training routine. They can help to improve sports specific training, overall fitness, posture, muscle and joint flexibility and reduce the risks of injury. B-active Fitness Club has a dedicated area specific to this type of training with a range of tailor made equipment to work your body to the maximum including suspension straps, kettle bells, power bags or our functional training rig with medicine balls and stability balls. Our specifically designed classes are also excellent way to strengthen your body and improve its functionality. To name only few benefits amongst many:
Corrects bad posture and muscular imbalances
Fat burning & Metabolism boost
Improved stability
Stronger core, core activation – Teaching the core to stabilise the spine against external force
Sports Specific -Enhancing the relationship between the nervous and musculoskeletal system, providing quick, reactive, and powerful movement patterns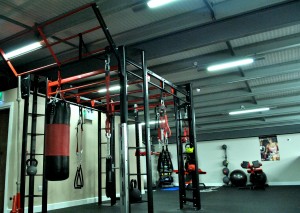 FITNESS CLASSES
Who said that workouts have to be a struggle? Whether you're looking to lose weight, tone up, strengthen & condition or just want to compliment your training routine, B-active Fitness Club offers a wide range of fun and relaxing classes to choose from. Our fun loving instructors create an amazing atmosphere with workouts that will push your limits without realizing how hard your body works.
From Indoor Cycling (Spin), Yoga, Pilates, Circuits to Pump & Tone, Boot or Extreme Pump, there's a class for everyone to help you on the journey to a fitter, healthier and happier you.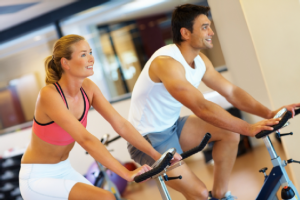 VIEW TIMETABLE
SMOOTHIE BAR
Smoothies are a nutritious and healthy option complimenting any type of training, at B-active Fitness Club you can get your fresh smoothie-to-go before or after training. Frozen fruit as one of the ingredients makes the smoothie refreshing and will cool your body down after an intense workout. You can mix and match ingredients to create your own smoothie every time. You can also ad nutritional supplements such as whey or beef protein powder for better muscle recovery and mass gainer or peanut butter for extra energy. Pre-made pre- and post-workout supplements, drinks and protein bars are also available. We've chosen the top local and multinational brands available on the market – Multipower, NXT and Scitec Nutrition – to offer our members wide range of high quality training and nutritional supplements.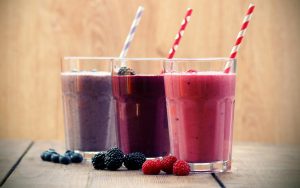 PERSONAL TRAINING

GO TO PERSONAL TRAINING PAGE