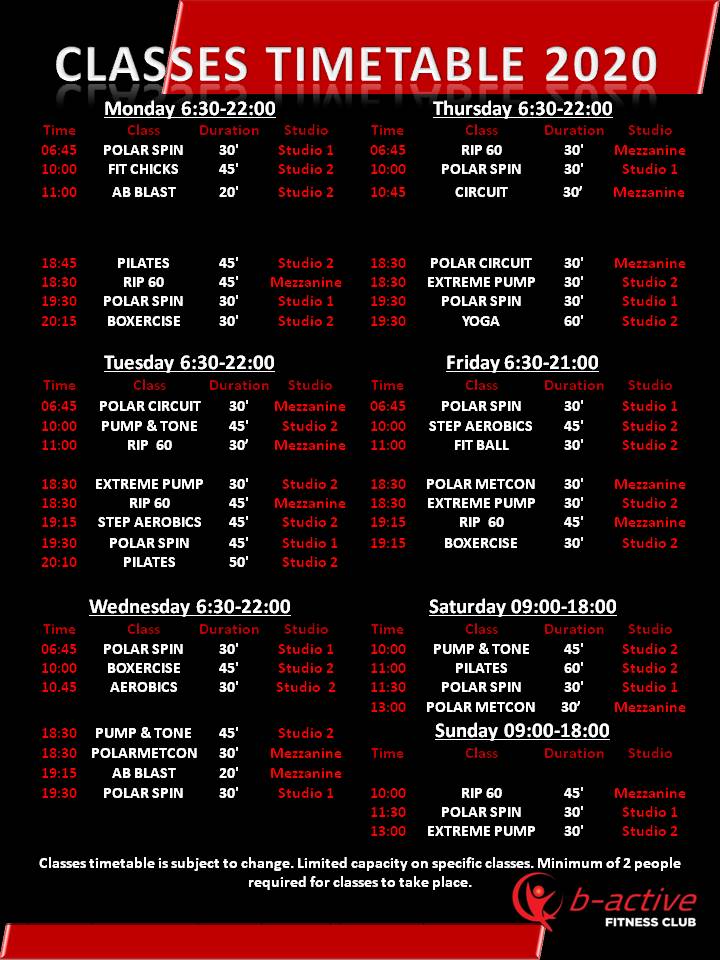 FIT CHICKS A class designed specifically for our female members, work out and tone bum, legs, tummy (also known as BLT).
METCON A workout involving repeated and/or sustained high-intensity exercises, usually involving weight lifting movements, with short rest periods in order to burn fat or create a "conditioning" effect
FIT BALL This class entails a lot of core strengthening and balance using a fit (stability) ball. A very good class for members who prefer a low impact exercise or are just looking to take it easy while focusing on good posture techniques. Suitable for all fitness levels
BOXERCISE Boxercise is a functional, high-paced and energetic class involving boxing techniques, such as punches, uppercuts and jabs for a full body workout. This class is suitable for all fitness levels.
CIRCUIT Circuit training is an excellent way to improve mobility, strength and stamina. The circuit training comprises of several strength exercises that are completed one exercise after another. Easily alternated appropriate form of training for most sports, age and fitness levels
STEP AEROBICS A unique, low impact aerobic work-out with the use of a step. Choreographed moves giving you a fun way to exercise and burn calories. Suitable for all fitness levels
RIP60 (SUSPENSION TRAINING) Fantastic body weight workout engaging full body, focusing on flexibility, strength, stability and balance using suspension straps. Suitable for all fitness levels  
PUMP & TONE / EXTREME PUMP A resistance type of class using barbells and dumbbells working overall muscle groups. A great class for beginners to learn the technique of lifting weights
BOOT CAMP Using army style training, high energy work-out with the use of equipment & body resistance. Suitable for all fitness levels
ZUMBA Low-impact exercise to music. Choreographed moves to energetic music, great class for all who want to have fun while burning calories and toning up
AEROBICS A cardio work out using hi-low choreographed moves to music, excellent for fitness building, weightloss & toning. Suitable for all fitness levels
SPIN Spinning is an indoor cycling workout that can be a great way to get in a vigorous workout, burning calories and keeping your muscles in shape especially during the off-season
PILATES Pilates is a dynamic conditioning form of exercise, which specifically targets our deep, core muscles
YOGA Yoga uses postures and conscious breathing in combination with mental focus to develop awareness, strength, flexibility and relaxation. Through proper alignment and mindful actions of the body, Hatha Yoga brings balance, strength and a sense of well being