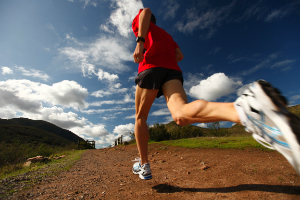 WHEN SHOULD WE TRAIN?
CARDIO IN THE MORNING ON AN EMPTY STOMACH
One of the most popular fat burning techniques is doing cardio training in the morning on an empty stomach. Many bodybuilding and fitness competitors apply this method when aiming for a lean physique, and it is also recommended by trainers. On the other hand, some experts tend to warn that the risk of muscle mass loss is way too high and claim that in a 24 hour time span, the actual time of cardio training is not a deciding factor when considering the burning of calories. Low blood sugar and stored carb levels in the morning mean that the body is in its perfect condition to burn fat, but because of high cortisol (hormone that breaks down muscles) levels, the chance of muscle burning is much higher. As a result, the potential benefits and risks are equally high when following this training method.
CARDIO IN THE MORNING AFTER PROTEIN SHAKE
A good way to prevent potential muscle loss is to have a small meal in the morning, containing only protein, or to have a protein shake instead. It lowers the risks by suppressing cortisol levels and preventing muscle break down while providing all the benefits due to low blood sugar and insulin levels.
CARDIO IN THE EVENING
Many bodybuilders and dieters do cardio training late at night but refrain from eating a single bite after workout so that the amount of burnt fat is maximized. This method has its own benefits too, but these results are moderate to say the least, while risks are quite high. Late night exercising is even prone to disturb your sleep cycles and regeneration rates. By the time you fall asleep, the speed of metabolic processes fall back to savings level, so you'll miss all the post-workout benefits of metabolic acceleration. The risk of losing muscle mass is exceptionally high.
HOW OFTEN?
Regarded as an effective fat burning program, daily cardio workout is usually supported by two arguments. Firstly, more training means more burnt calories. Secondly, frequent cardio helps maintain high metabolic efficiency, as there are no longer inactive periods between exercises. These advantages are hindered by present risks of overtraining or/and muscle mass loss. Furthermore, the risk of aerobic adaptation rises if a higher frequency in training is maintained for a longer period – as the body becomes more efficient, meaning that the same amount of training burns fewer calories over time. When considering all the benefits and risks, it becomes apparent that shorter but more frequent exercises provide a better benefit to risk ratio.
read also: