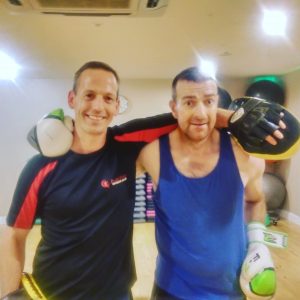 We would like to wish the best of luck to our member Aidan, who will be fighting in an amateur boxing bout against ex-marine from New York in middle weight category on the 12th of August. Aidan's fight together with other amateur and pro fights will be followed by the main event of Premier Boxing Champions on ESPN in the famous Turning Stone Resort Casino in Verona, New York. The Turning Stone Resort Casino has been host to epic bouts with legendary boxers and title fights featuring world renowned professionals.
Aidan has been training up for the fight with very short notice of 3.5 weeks. 2-phase training lately included sparring sessions in Blanchardstown and Dunboyne Boxing Clubs, pads sessions with our PT Troy, who has extensive experience in coaching boxing and kick-boxing athletes. Aidan has also incorporated endurance and cardio training in preparation for the weight-in and the fight itself.
Aidan has been doing the sport since 1990 and has already fought in New York in support of fundraiser for firemen injured in line of duty.
"I'd like to thank B-active and Troy for his time and help on a short notice. I don't think I could get in this shape without his help." said Aidan. 
B-active Fitness Club and our Team are very happy we can provide space and invest our time into helping athletes and all our members in achieving their goals, completing personal or sport challenges in all sport and fitness areas. We will bring updates about his fight later in August.
BEST OF LUCK AIDAN!