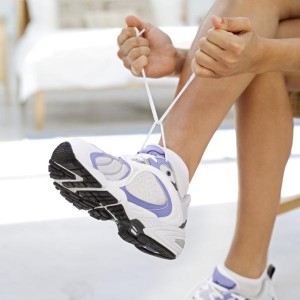 If you're one of those people who hit the snooze on their alarm like 20 times before they get up, and the chances for you to get up for early workout  are similar to winning a lottery, then we have few simple tips to get you training early and stay energized for the whole day.
THINK OF THE BENEFITS
Getting up early to go to the gym may seem like the difficult  task, especially if you're not an early bird type. But there are serious benefits that will overweight the pain of dragging yourself out of bed. By leaving early you'll miss all the rush-hour traffic and the gym will be quieter, meaning you can take as much room as you like and no waiting for your favorite equipment. Still not convinced? Remind yourself that when your session is done you'll have the whole day ahead of you to do what you wish. Once you get into a morning routine you'll start to feel great!
MAKE IT EASY
The last thing you want to be doing at a groggy hour of the morning is thinking too hard about what to wear or scrambling around to find things. Make it as easy as possible for yourself by laying out your gym gear the night before making sure your water bottle, headphones and towel are ready in your bag so you can just jump up, get dressed and go. Tip for ladies: save even more time by leaving out make-up application. Running mascara or foundation down your face during sweaty workout are neither good for your skin, nor good look anyway.
PLAY GAMES – HAVE FUN!
Set yourself a challenge (don't make it too easy, or impossible either!) and break down the big goal into weekly and daily targets. Reward yourself for meeting it! It's never about making big leaps and that's certainly NOT how it works in fitness. It's all the small steps, small wins that will push you closer to your goal every day. So have fun, play little games to motivate yourself and take the win every time you make it. Think new leggings, a massage, facial or anything that you wish to buy or do yourself that makes you happy. Once you have something you'll soon be leaping out of bed and enjoying the games, you'll forget about struggle or time and before you realize the results will come.
GO EX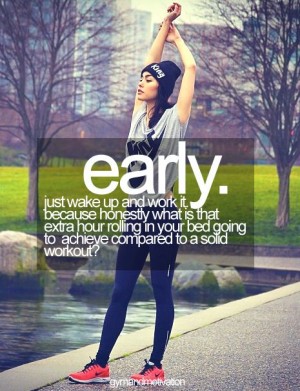 PRESS
If the idea of a long exercise session puts you off early morning workouts, try 15-30 minute high intensity intervals (HIIT) classes or workouts. Our instructors will be happy to create a quick effective workout routine, just ask for advice. Packing a punch when it comes to cardio and burning calories fast, doing two or three sessions a week will help to build your fitness levels and get the blood pumping in no time, as well as leaving you with plenty of time to get ready for work. It'll be over before you know it!
SET YOURSELF A CIRCUIT
If you're not headed to a class then don't give yourself too much to think about by planning what exercises you're going to do in advance. Create your own circuit (or ask our instructor to make one for you) and complete it as many times as possible in 30 minutes – work with as few rest periods as feels comfortable.
PREP YOUR RECOVERY
When you have little time it can be tempting to skip some key elements of your gym routine, but recovery is a vital part of training. Make your post-workout snack the night before or get it in our smoothie bar on your way out. If you have any special ingredients, such as oats, seeds and nuts, you want us to put in your shake, bring them with you and we'll make your own post-workout recovery smoothie. This is especially necessary if you have to go straight to the office from your workout.
DON'T HIT SNOOZE
While it may be tempting, try not to hit the snooze button – it makes getting up much more difficult and means you're a lot more likely to put off your workout. Try leaving your alarm on the other side of the room so that it forces you to jump out of bed rather than roll back over to sleep! If you have smart phone then add a note to your alarm, a motivational message or a reminder of why your alarm is going off so early, perhaps your beach holiday or upcoming marathon –  to give yourself an extra get up and go. If you're still struggling, make yourself accountable to someone else – arrange a workout with a friend, personal trainer or book a class so that you're more likely to stick to it.