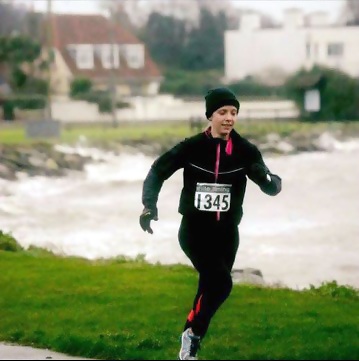 Louise has been our member since opening of our facilities. She made a decision last year to become a marathon runner and her dedication and training are bringing serious results. She's currently training for her 2nd marathon and cross country national competition. We asked Louise few questions that may give you answers if you are also playing with the thought of setting yourself a goal in distance running or any other fitness goal. Louise's dedication is inspiring.
What is the upcoming marathon you are currently training for ?
I am currently training for my second marathon which is on in Limerick on the 1st of May. I did the Dublin marathon in October last year and I did it in 3 hours 33 minutes so I'm hoping to take a few minutes off that time in Limerick.
How long have you been training for?
I really only took up running races in the past year and a half. I have been living in Celbridge for the past 8 years and had been hoping a gym would open up so the week b active opened I joined and started running on the treadmill and doing a few classes. I then decided to do the SSE race series last year which started with a 5 mile race in June, a 10 km race in July , a 10 mile race in August and a half marathon in September. After I did the 10 mile race I made a decision to do the Dublin marathon.
What's your favourite post/pre workout meal/snack? 
It depends on what time of the day it is but in general I eat fairly well. I eat a lot of chicken , eggs and vegetables and I love protein bars.
How many times a week do you train?
While I'm going the marathon training I do one long run a week , one speed session , one tempo run and one slow/short recovery run. I sometimes do these runs on the treadmill in b active and then do some weights after. I go training at 5/6 times a week.
I'm going to Coventry on a 4 woman team  competing in the ladies USPE cross country championships at the end of March so I'm finding doing weights has helped my performance in cross country running.
What's your favourite class in B-active?
I have absolutely no coordination so aerobics classes are not for me but I love the circuit and rip 60 classes and find they absolutely fly by and you can do them at your own pace (provided the instructor isn't looking;)!
What is your main tip for someone training for a marathon or getting fit in general?
This time last year I wouldn't have for one second thought I'd have done a marathon let alone doing another two this year so keep at it. Also, I would say when you go to the gym do a program or activities that you enjoy as if you don't you won't keep doing it.
Well done on reaching your goals & Thank you for sharing your experience and training tips with our members. We wish you all the best and many happy miles in your feet.
We will keep updates about Louise's accomplishments as we are sure there are many coming up in the future.
Louise is great example that once you set a goal and go for it, there's nothing that can stop you. B-active.